In 2022, over 1,000 applications were submitted for an American Junior Golf Association (AJGA) internship. After a prestigious interview process, 87 were offered an opportunity either traveling the country helping conduct events or gaining valuable experience at our National Headquarters in the Communications, Player Services and Finance departments. This summer we have six helping us in Braselton, Georgia, and here are their stories and unique experiences in different departments.
Angela Ding - Communications Assistant & In-house Intern
As an AJGA alumna, Ding applied for the AJGA's Internship Program in the spring, not only because she enjoyed the professional set-up at the tournaments, but also because the communications intern position aligned with her major in Marketing. Transitioning from a traveling intern to a Communications Assistant, Ding spent more time at AJGA's National Headquarters in summer.
"Being in this elevated position allows me to be more involved in crafting media activation plans and have more-say in what content is being produced." Ding shared. "Being an In-house Communications intern has given me a glimpse into the brains behind the AJGA Communications Department. While most of the content is being produced on the road, there are a lot of projects relating to sponsorship, tournament proposals and current golf affairs involved in the Headquarters." Speaking of her feelings at this position, Ding added, "I can combine my love for travel and golf with my major, Marketing. It is a very unique internship, and I hope to continue doing something similar down the line."
Angelina Hu - Communications In-house Intern
Hu used to work for the PGA TOUR Series-China before her graduate study in Sport Management, and she really valued the opportunity to dig into junior golf development at the AJGA. "As an international student, I am grateful for the chance to have a general idea of how sports organizations in the United States structure and operate."
Hu's responsibilities in the Communications Department included storytelling, weekly content production for sponsors, and sponsor fulfillment, which exactly met her expectations. "I connected what I learned at the AJGA with my work experience at PGA TOUR Series-China and my courses at grad school, and I believe this internship would play a huge role in my future career in golf industry." Hu also gave her honor to her co-workers in the Communications Department for all the support. "It was my pleasure to interview C.T. Pan, the PGA TOUR player, and get my first story published on AJGA website. I couldn't do this without my co-workers' help."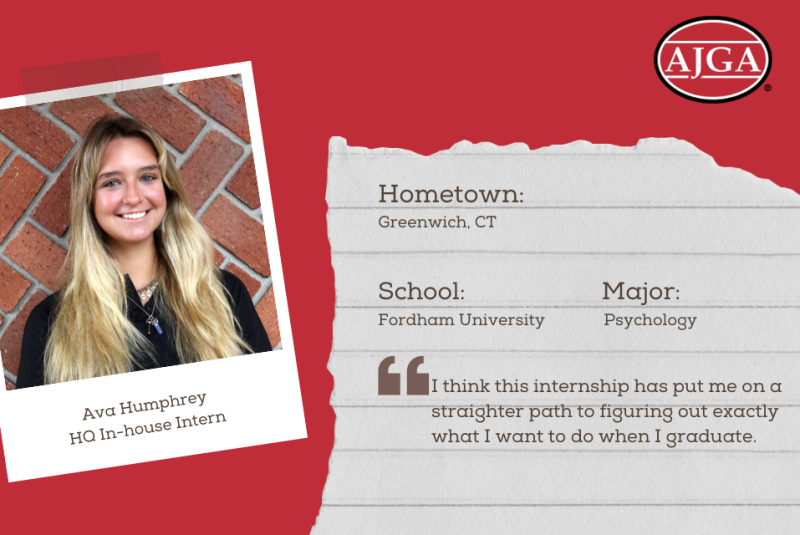 Ava Humphrey - HQ In-house Intern
With her family very involved in the AJGA, Humphrey had a strong interest in practicing her major Psychology in the organization and working with athletes. As a HQ In-house Intern, Humphrey had the opportunities to move around different departments to figure out her career goal when she graduates. Among all the departments she worked with, Humphrey enjoyed the Foundation the most. "I would definitely like to work with something like the ACE Grant in the future." Humphrey shared, "Working to reach goals as a community in order to help and better the lives of others is something I hope to do at any job I have."
"The most inspiring quality of the AJGA is the quality of the individuals who work here." Humphrey expressed her gratitude to all her co-workers at the AJGA, "I learned and loved how everyone I worked with seemed to be in a positive mindset, no matter what. Everyone is so giving and kind and it made the AJGA a valuable, comfortable place to learn."
Craig Johnson - Player Services In-house Intern
With no golf background, Johnson learned about the AJGA's Internship Program from his mentor and fell into this opportunity after some research. Johnson put himself into a complete new environment 600 miles away from home to gain experience in a non-profit organization.
Assisting to solve problems for AJGA members and affiliates in the Player Services Department, Johnson found his responsibilities related to his major at school, Business Management, which allowed him to get out of his comfort zone. On the other hand, the family-knit environment at Headquarters is what inspired Johnson the most. "I believe I gain a family connection and network here at the AJGA Headquarters. The Headquarters allows me to experience what goes down in an organization's office setting and understand working with other people and how a business is all connected. It has also showed me the importance of putting yourself out there to take the next step."
Thomas LaBarre - Player Services In-house Intern
LaBarre was searching for an internship that would enable him to gain some real-world experience to help him pursue his degree in Sports Management. With strong interests in golf events, LaBarre found himself a great opportunity at the AJGA this summer.
LaBarre loved how the Player Services Department referred to themselves as the "Dream Team," because they help junior golfers around the world fulfill their dreams of going to college for golf and eventually playing professional. As part of the "Dream Team", LaBarre generally provided information to juniors and parents regarding the AJGA, event fielding, player services and assisted with new member outreach. "This internship has taught me a lot about professionalism and the basics around front office administration where players are concerned. I have been challenged to provide excellent customer service and that talent can be translated into any professional career."
Cole Martin - Finance In-house Intern
Playing golf throughout high school, Martin decided to look more into the AJGA's Internship Program when he saw a position pertaining to his major in Finance become available. Martin devoted himself to managing all traveling intern's expenses as well as helping with other finance responsibilities, such as budgeting, accounting and purchasing.
Though Martin's interests are in investment/wealth management, he agreed that he gained the experience of seeing what a corporate job is like. "My responsibilities work along the lines of corporate finance, a course I just took during the spring semester. Seeing how an office works and everyone in it will help me be prepared for the future." Martin also respected how financially AJGA supports juniors to play golf through ACE Grant, and appreciated the kindness and assistance everyone at work provided.